I was playing with audacious's effect setting called "Bauer Stereophonic-to-Binaural (BS2B)". it's a dsp which will gives you crossfeed effect (more info:
https://en.wikipedia.org/wiki/Crossfeed
). it's a quite nice sound effect since gives you more natural sound and less fatigue on long term usage, and have been my solely reason why I can't use other music player. then, suddenly I realize that audacious is simply using bs2b library in linux. it means that we actually can use it globally for every music player (and even video player) in our system.
this tutorial is about how to implement crossfeed effect globally by using ladspa plugin and pulseaudio. why pulseaudio? because it's the easiest method to implement it. you can also do it on ALSA just like described in this post
https://takla.wordpress.com/tag/bs2b/
but as you see, it's quite complicated. compared to that using pulseaudio is lot easier. pulseaudio alos have another benefit where we could choose "what" and "when" will use the crossfeed effect.
first of all, we need to install "bs2b-ladspa" plugin and pavucontrol
next, load the ladspa modules.
next, open pavucontrol, clik playback tab. if you see LADSPA stream on it, it means the modules have been succesfully loaded. however, it's not used by default. in order to use it you need to change the output line of your music player. simply open your music player then change the output line to LADSPA.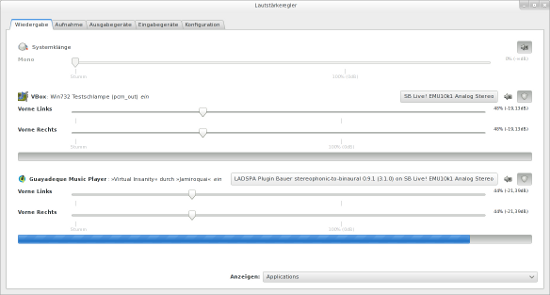 the bs2b plugin can be controlled by changing the "control" value.
http://forums.solydxk.nl/viewtopic.php? ... 305#p57305
reference:
http://www.mhampicke.de/artikel/view/17
http://askubuntu.com/questions/43950/ho ... dio-stream